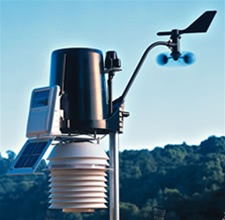 The new Vantage Pro2 Plus weather station worked, recording about one inch of precipitation during the recent rainfall! Now I just need to get the USB interface working and wview set up to analyze the results.
We installed the weather station up on the roof along with the new Wineguard HS-1000 omnidirectional HD antenna, which is also working well. Dropped cable over a year ago – Netflix + other streaming + broadcast is good enough and costs a lot less!
I hope to combine the data from the weather station (including the UV and solar radiation sensors) and the TED 5000 whole-house energy monitor to correlate temperature and other weather changes with energy usage and solar PV power generation from the solar arrays also on the roof.
Update: Success!  The weather station is online (after much fighting with hardware and interfaces)!  Check out Wumple Weather and station KTXAUSTI146 on the WeatherUnderground.