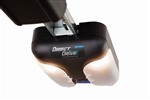 One of our garage door openers died of old age recently – it was an old builder-model (in other words, as cheap as the builder can get) chain drive opener that was incredibly noisy. I took advantage of the opportunity to reduce the noise made by the garage door opener and the door itself especially since there is a room of the house above the garage.
Here's what I did in order of increasing cost and effort:
After making all of the above changes, we believe the garage doors are about 75% quieter than before!
Hope this helps someone!