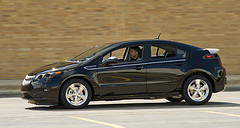 GM's in-development electric car, the Chevy Volt, has hit the road in its pre-production incarnation!
The Volt has 40 miles of all-electric driving per charge before using gasoline.
Check out the video on the GM-VOLT.com web site!
Video: Pre-Production Chevy Volts Hit the Road! | GM-VOLT : Chevy Volt Electric Car Site.