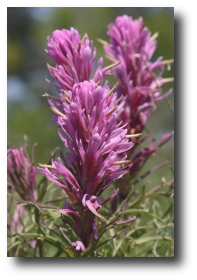 Clymer Meadow, the largest protected tallgrass prairie in Texas' Blackland Prairie, grew by 57 acres due to a donation from a generous landowner to The Nature Conservancy during 2007.
See a slideshow of native prairie flowers and grasses at Clymer Meadow in NPAT's photo album.
From The Nature Conservancy:
Highlights of The Nature Conservancy's Texas conservation achievements in 2007 include:
– A donation of 57 acres of virgin tallgrass prairie at Clymer Meadow by a private landowner whose family has owned the land since the 1850s
The property, adjacent to the Conservancy's Clymer Meadow Preserve north of Dallas, adds to the diversity of the preserve with a different composition of grass species. The family has worked with the Conservancy for 13 years to maintain the prairie through conservation management practices and is a member of the organization's Texas Land Stewards' Society. The land donation brings the total of Clymer Meadow Preserve to 1,045 acres.