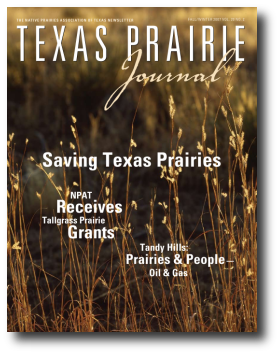 A new issue of the Texas Prairie Journal (formerly the Prairie Dog), the newsletter of the Native Prairies Association of Texas (NPAT), has been released!
All NPAT members should be receiving their issue in the mail very soon.
Featured articles in this issue include:
– Saving Texas Prairies
– NPAT Receives Tallgrass Prairie Grants
– Tandy Hills: Prairies & People – Oil & Gas
If you are not a member, join NPAT to receive future issues of the Texas Prairie Journal! You may join online here, or print out a membership form and submit it via postal mail.
A huge thanks to Kirsti Harms, NPAT's new editor whose incredible design skills have upgraded the newsletter!