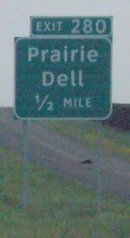 In Texas, prairie lives on only in name in many places. In my experience, most people living in tallgrass prairie ecoregions aren't aware they live in such a region, don't know it is an endangered ecosystem, and have never seen the beauty of tallgrass prairie.
One method of helping people realize they live in former prairies is to show them how many places are names after the prairies that existed there.
Texas cities, towns, and other names with prairie, meadow, or another prairie related word in the name:
Some more:
Crabbs Prairie
Roans Prairie
Tarkington Prairie
Prairie Valley
Ward Prairie (Lakes Chapel)
Prairie Grove
Prairie Point
Mound Prairie
and more in the Handbook of Texas Online
Know of more in Texas and other states? Help us build the lists by posting the name and state in the comments!