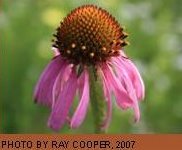 Wildflower Tour of Bear Creek Ranch – June 9, 2007 – Saturday 10am-1pm
Owned by the Dixon Water Foundation, the 1700 acre Bear Creek Ranch supports deep soiled tallgrass prairie, limestone glades, and streamside forest. Come see this spectacular part of the Fort Worth Prairie.
The Nature Conservancy's Jim Eidson will talk about natural history, and Robby Tuggle, ranch manager, will talk about sustainable grazing.
Located at 2701 Bear Creak Rd., Aledo, TX 76008 (west of Fort Worth). Click here for directions.
For more information, contact the Nature Conservancy's Jim Eidson, 903-568-4139, jeidson@tnc.org. Also see the field trip flyer.